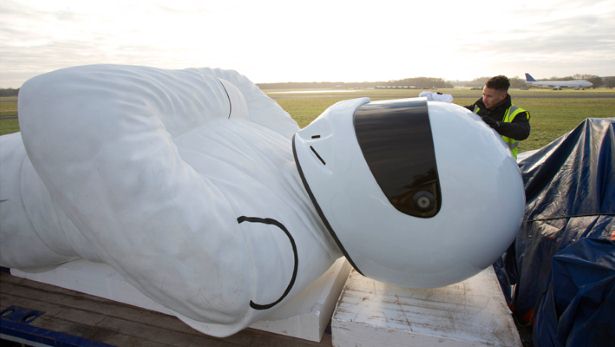 A 30ft high sculpture of Top Gear's 'The Stig' has been unveiled at Dunsfold Aerodrome in Surrey and will begin a three day jaunt across Europe to celebrate the launch of a new global channel, BBC Brit.
The fibreglass model, which took three sculptors and over two months to create, will find a home at the Palace of Science and Culture in Poland's capital, Warsaw.
BBC Worldwide's Amanda Hill said: "BBC Brit will be the new home of Top Gear in Poland, so what better way to mark this than by taking them a giant Stig. Fans will be able to spot him on the roads of England, Holland and Germany, he's impossible to miss."
BBC Brit is described by the corporation as a channel that will broadcast "premium factual entertainment that is intelligent but irreverent." Clearly aimed at the male-skewed Top Gear demographic, the channel will become the exclusive home of the classic motoring show, though will also cover science, adventure, business and "extreme characters." Other shows will include Room 101 with Frank Skinner and the long-running comedy panel show Mock the Week, however, the BBC has pledged to show roughly 50 hours of new content.
BBC Brit launches on February 1, though the 22nd series of Top Gear premièred on BBC Two on January 25. It saw Jeremy Clarkson, Richard Hammond and James May racing across the urban landscape of St Petersburg, while multi-million selling artist Ed Sheeran was the star in the reasonably priced car.
Next week's episode (February 1) features an Australian Northern Territory Road Trip in GT Cars, with the fantastically unpredictable Kiefer Sutherland taking on the celebrity challenge.