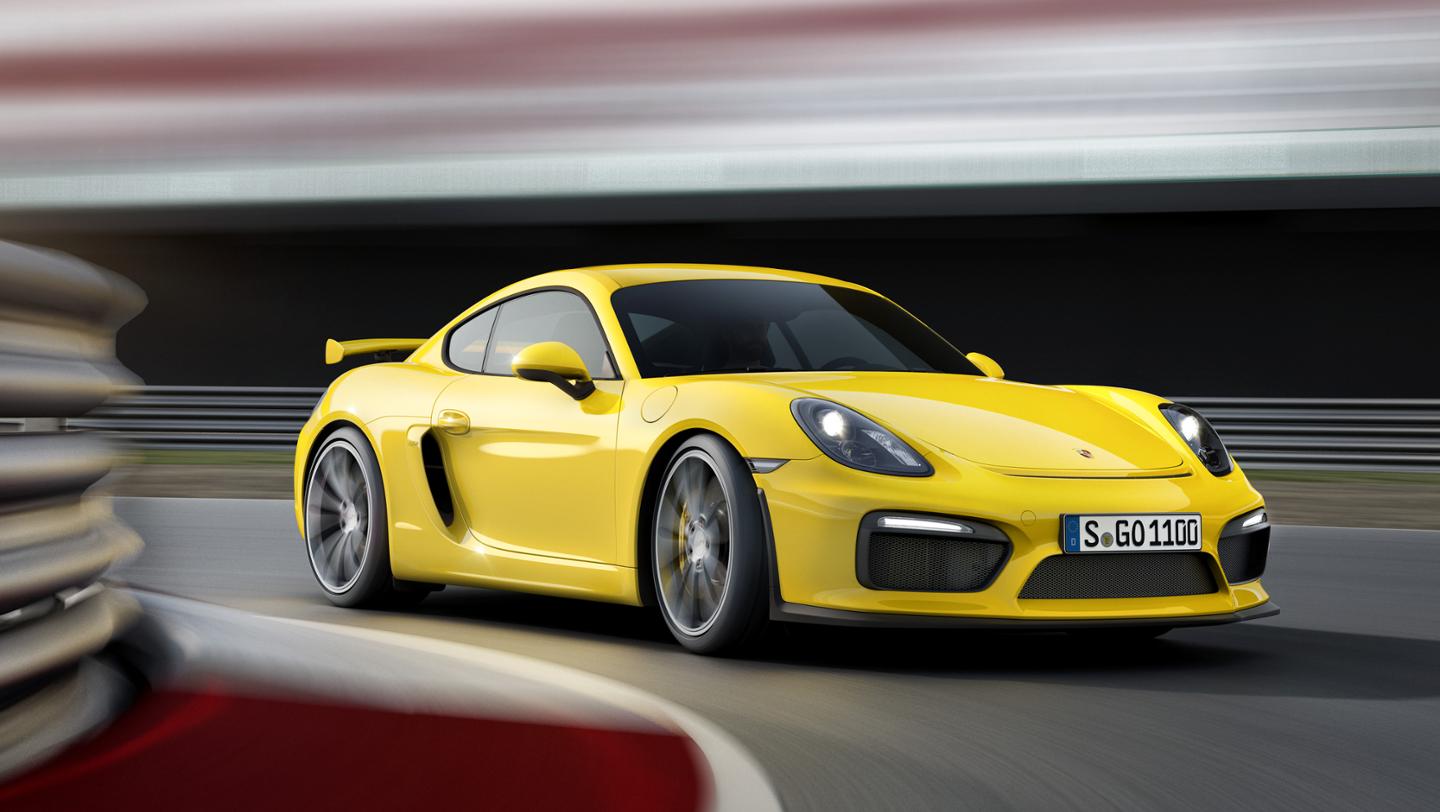 Porsche has announced what it describes as the most extreme Cayman ever, with a 380bhp, race-car aero and stiffer chassis. The Cayman GT4 will blur the lines between the racetrack and road and will be aimed at the kind of buyer who takes their vehicles to track days but like to drive home afterwards.
The exterior features an enhanced fixed rear wing with deep front bumper and larger rear diffuser. Porsche claims the body-kit generates positive down-force at higher speeds.
Of course, at the heart of the GT4 is the 380bhp, 3.8 litre engine that features a 45bhp increase on the next most powerful Cayman, the GTS. That leaves performance at 0-62mph in just 4.4 seconds and a top speed of 183 mph – 0.5 seconds and 6mph faster than the GTS.
Sports seats trimmed in leather, a smaller GT4 steering wheel and sports exhaust all come as standard, while Porsche has also left in the DAB radio and climate control that was popular in its earlier models.
Now, before you get all nervous about the price – the Porsche GT4 will actually be priced at a relatively reasonable £64,451 – £9,054 more expensive than the Cayman GTS, though still looking like a bit of a bargain. The GT3 was priced at £100,540 and the Carrera S 3.8-litre at £83,545 – yet the GT4 is lighter than both.
"The Porsche Cayman GT4 is perhaps the most anticipated new performance car of 2015," said Evo in its review of the car – one of the most anticipated of the year, "Why? Simply because this is the car that should finally demonstrate the full potential of the brilliant Cayman mid-engined chassis.
Order books are open now, with the first UK deliveries set for the end of March.