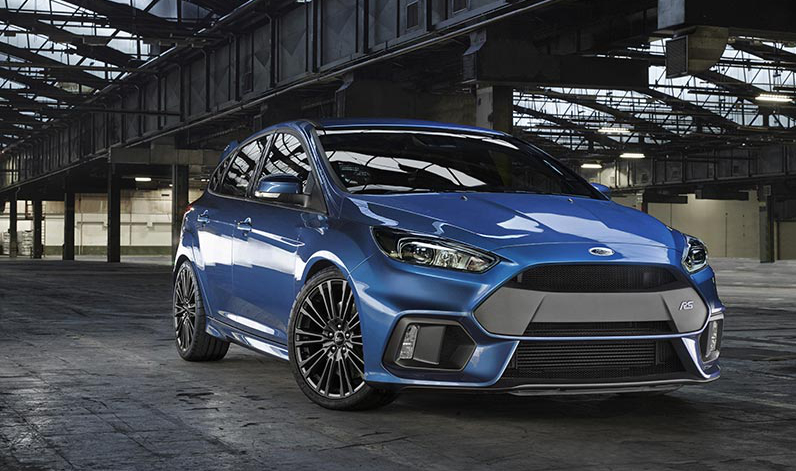 The third-generation Ford Focus RS will come equipped with a turbocharged 2.3-litre engine producing "more than 316bhp". Initial technical facts are beginning to trickle in ahead of pricing and on-sale dates being confirmed ahead of next month's Geneva motor show.
Ford claims the new "All-Wheel-Drive with Dynamic Torque Vectoring" system provides "class-leading corner speed, limit handling and a unique drift capability". The system revolves around twin electronically controlled clutch packs, located on each side of the Rear Drive Unit.
"There are always debates about which way to go, but as soon as the advantages became clear it was a pretty straightforward decision" said Raj Nair, group vice president of global product development, "The twin clutch set up offered us some real advances, not just out of corners but also on turn-in and with mid-corner stability."
"Crucially, the technology doesn't detract from the driver experience either. This is a car you can have fun in and drift in a totally controlled way, or which you can go out and set a fast lap time in. Those two things don't always tally, but this technology gives us the scope to do that."
According to Autocar's "spy photographers", the Focus's RS engine is linked to a six-speed manual gearbox and sounds "very loud". Reports suggest the car could be capable of up to 340bhp.
Production will begin later this year with the first sales likely to be made next Spring. It's expected to cost around £30,000 with buyers given just four choices of colours, called Nitrous Blue, Stealth Grey, Absolute Black of Frozen White.
Ford of Europe boss Jim Farley said the new RS "captures the essence" of the brand, adding, "We make great cars that are affordable and that's what defines the RS. Bringing RS back is a high point for us and customers. We don't just want a sustainable business for Europe, we want a vibrant business. This is a part of that journey."