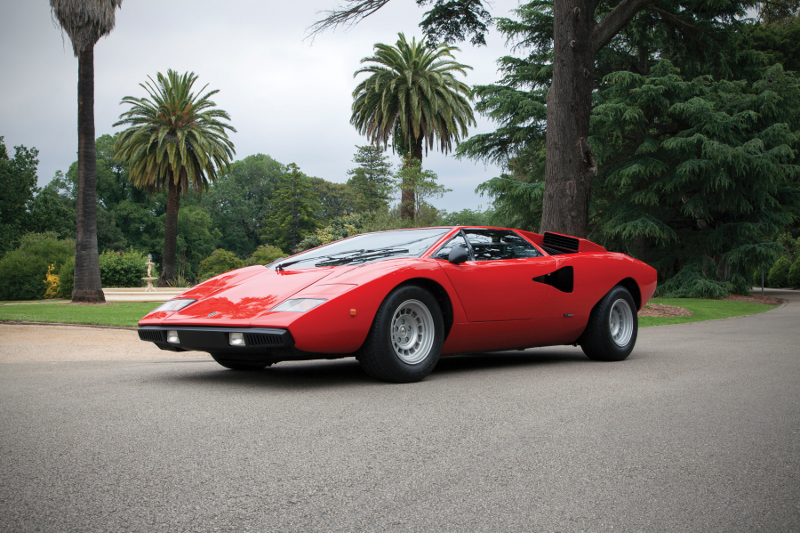 Three examples of the outrageous and polarising Lamborghini Countach – a poster car of the seventies and eighties, loved and despised in equal measure – are set to go up for auction. A striking red model with matching numbers (chassis and engine 1120260) is estimated to fetch £901,000 to £1,125,000.
Posters of the Countach adorned the bedrooms of many teenage boys and although criticised for its in-your-face nature and over-the-top styling, the car was undeniably unique and original.
The aforementioned Countach was bought from the Lamborghini factory in Sant'Agata in 1977 before being shipped to Australia in 1978. Though having undergone a re-spray and engine rebuild, the LP400 remains in its original condition and has just 35,500 miles on the clock.
Max Girardo, managing director of RM Auctions Europe, said: "There has been a real surge in demand for supercars of this era over the past year.
"We affectionately refer to them as 'poster cars' – the cars that adorned the walls of teenagers during the 1970s and 80s, but which are now within the grasp of of those very same teenagers who are now affluent people who can realise their dreams."
Also at the RM auction in Paris is a white 1980 LP400 S – fitted with turbocharger and upgraded brakes. It is estimated to fetch £375,000 to £526,000.
The third Countach is one of the final models – the 25th Anniversary Edition from 1989. Speed freaks will be interested to know that it is arguably the fastest production Countach, capable of speeds of 183mph. The model for sale is bright red, has tan leather interior and OZ racing wheels. It's covered less than 5,000 miles and can be yours for a mere £180,000-£225,000.
Visit RM Auctions Europe to see the three beauties plus many more exotic classics.
Photos by Stuart Kortekaas © Courtesy of RM Auctions – Want to see more?  (click here)